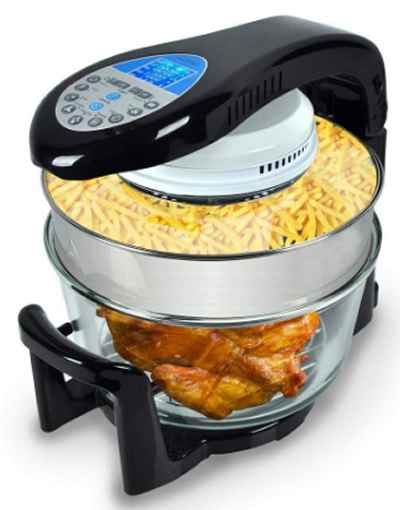 The new NutriChef PKCOV25 Halogen cooker has a couple of unique useful and added safety features. If you've ever tried to lift a steaming, hot heater lid from a conventional halogen oven, you know the problem, the risk of scalding and it has to be put down on a special wire holder, which often skids around on the table top and put it down carefully so it  does not damage your kitchen surface or damage the halogen heater element…. all this when its tied to the electric supply point with a short lead!   If you are not well,  infirm or very elderly that's a BIG ask.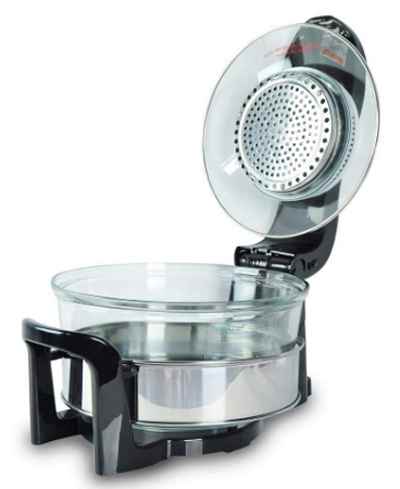 The solution , which I've seen in many European models is the hinged lid. No need to put the lid down at all, you can just get on with loading or turning etc.
The Nutrichefs main features:
Power: 1300watt
Cooks Bakes Grills Steams Roasts and air-Frys food
Digital timer and temperature setting
Pre-sets available for common functions
Big Capacity 18 Quarts size!
Includes extender ring 2 tiered rack and tongs
What buyers of the new Nutrichef model had to say….
It is really good with chicken, fries & pork chops. I have not tried it for cakes. I love how big the bowl is. Give you plenty of room for whatever you are putting. I still haven't been able to figure out all the buttons but I just turn it on/off as needed. 🙂
love it, the way it cooks and all that. Have bought recipe books on the one we had prior, still works for this and it's great. Haven't figured out how to change the degrees from Celsius to Fahrenheit so that's a bit of a bummer. Otherwise, heck to the freaking yes you better buy this, I can't praise a product like this enough, if you're a genuine cook, wanting to dapper in the realms of being a legit chef. Love it.
I do love the lift top on it. No taking up extra counter space with a rack to hold the lid.
I been thinking this cooker is good, but Thisi is just Amazing!!!! Restorane quality French fries in 25 minute with just a tablespoon of oil wit crispy whole tilapia on top shelf of cooker. Love it. If you prefer healthy food this cooker for you.
This is my second cooker. The last one made many meals for us over three years.
I received this one as was told and am really impressed. I can cook different dishes in 3/4 the time as directions show and is super quiet. Only negative I have found is the temperature is shown in Celsius. I contacted the company and they are working on having that corrected and put out a more educating manual. Love this cooker.
I did find rather too many problems described in the customer feedback, which is a great pity. Perhaps caused by rough handling?  Hence my low overall score for this model. Those that did get a good one delivered though, were overwhelmingly delighted. 5/10