12 litre capacity / 17 with extender
1300 watt heating element
Temp 125 to  250 degrees
Timer 60 min 
Lid handle cuts power off
Well ok, I do admit the Tower unit is not revolutionary , as the advertising video says it is. And there is nothing new about it, the control panel is the same old fashioned 'dial' type that was common on all Halogens of a few years ago. Nor does it have my own favourite extension to the Halogen design, which is the hinged lid, as seen on the Andrew James models……..
BUT
….. there are lots of customers out there who are unconvinced about these kitchen marvels and it may be 'horses for courses' or just going for the tried and tested design. So  here is the Tower T14001. It really doesn't get more basic, but Tower do have a long history and have produced some top kitchen gear in the past, in fact looking around my own and my Mums kitchen, I found no fewer than 6 Tower products, some very very old. Best of all it has a 3 year  guarantee.
For cooking  multiple  items of food  together, use the extender ring which extends total capacity to 17 Litres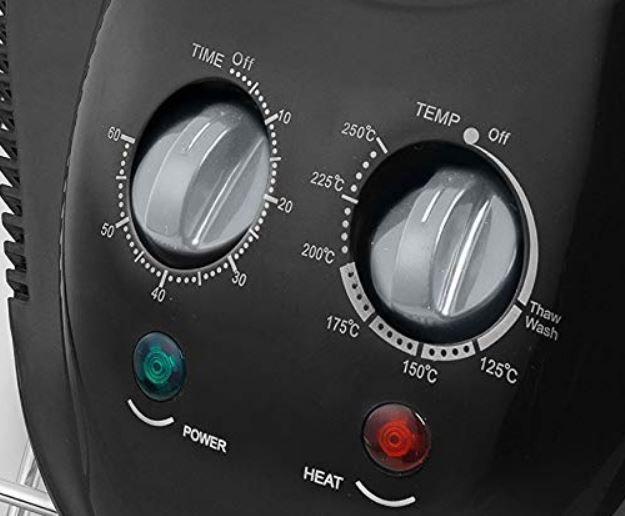 Very conventional dial type controls time 0 to 1 hour and Temperature  125 to 250 in degrees Centrigrade.
I did notice that there were a lot of  conflicting comments about cooking chips. Having used many Halogen ovens I can say that they produce excellent chips, frozen prepared ones are  by far the easiest, fresh cut ones must be dried thoroughly before you begin and will take more time , spray on oil ( there is a useful little bottle with this model ) can be used and will give a better finished product.  The best way I found, and for ease of use , is to purchase the airfryer accessory, this works very well in the conventional design Halogen oven, especially if you're cooking multiple things at once.
Extender Ring
Low Rack
High Rack
Wire Lid Stand
Tongs
2 mesh trays
Oil Sprayer
Recipe Book
manual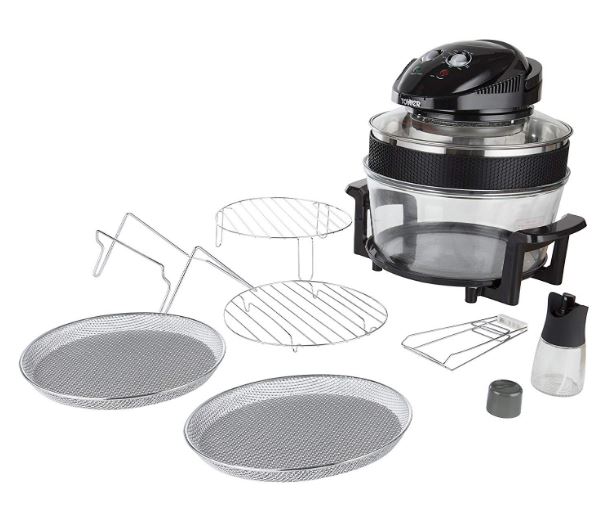 What buyers of the Tower 14001 said...
It cooks food loads faster than both our standard oven and the Halo Health Fryer we had previously.
* It has 2 racks, meaning you can cook chips and chicken for example at the same time.
* It has a self clean function to remove the oil and grease that builds up in the bottom of the bowl
Much better than other makes,good value highly recommended
easy to use easy to clean highly recommended 10/10
I cooked chips in and they are really the best I ever had at home. Putting the bits together is a little more difficult than it looks however. It comes with tips and idea for you to try. It is fast and efficient. It arrived in record time (within 2 days).
It cooked a whole roast chicken(2kg) in an hour and it was lovely ! Probably not big enough for a family of more than four people but I am surprised at how much I am using it.
Although there is nothing really outstanding about it, the price is great especially considering the full set of tools and accessories you get.
There is a really good guarantee of 3 years. The comments from previous buyers were overwhelmingly good. Tower is a long-standing established brand and this conventional model is well made, so all in all I  felt it was very worthy of a review I gave this model 4 star