The Quality of the SousVide Tools unit is obvious from the start. No cheapo plastic construction either in the case or in the 6 shelves. 
Built to last, works quietly ( big fan ) and has a powerful heating element, thoroughly drying your produce.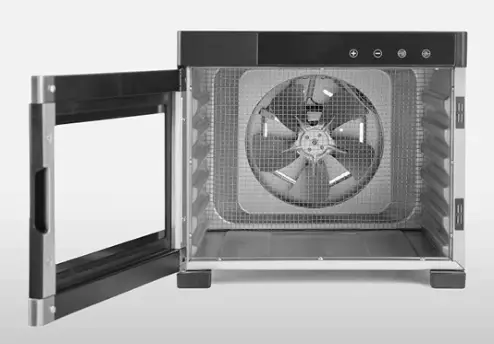 The SousVideTools Food Dehydrator uses silent fans to circulate warm air for an evenly dried result
Thoroughly drying the inside of the fruits, it is carefully designed to stop the growth of bacteria, yeast, and mold
 Extend the shelf life of your summer fruits and snacks into the winter,  all the food you dehydrate yourself will be free of the chemicals and toxins often added to store-bought dried food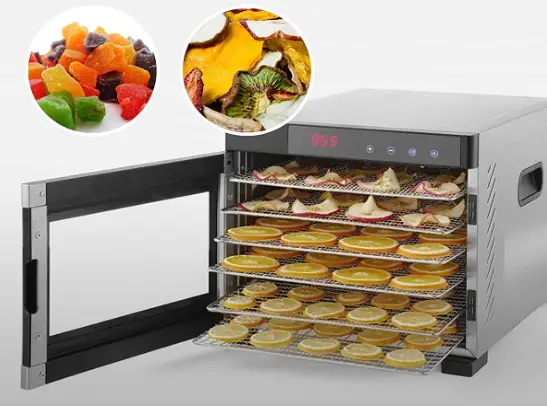 Controls On the Sous Vide Dehydrator
Touch Control: this unit has a capacitive touch sensor button unit, not a  cheap membrane bubble button, so it won't wear out and is completely sealed – ideal for a pro kitchen environment.
left to right buttons: 
UP, Down, Time/Temp selector, Start button
Stainless  Steel construction
6 steel shelves
Model 12005
Timer  up to 24 hour in 30min increments
Temperature 35 to 75°C in 5 degree increments
650watts 2.7A 240volt std plug fitted.
Dimensions
  Boxed: L 510mm x W 402mm x H 392mm
  Unboxed: L 500mm x W 311mm x H 340mm
Weight 8.37 kg 11kg boxed
This unit is Huge! I love this thing!

Stainless steel construction – none of you dodgy oriental plastics, just a large chamber made of metal.
Long run times. Low and high temperatures in 5°C steps.
Easy to clean.

Only downside is that multi-temperature drying is a manual affair.
You set a start temp, then have to come back and change it later if needed.

Bought to dry the some of the food we started growing after converting our garden into an allotment – at the start of the 2020 apocalypse.

Have used for ginger, onions, apples, bell peppers, and all manner of spices.
2
I will be using the dehydrator for drying fruit, veg and herbs so I will be running it at 50 C. I have mounted it on ceramic tiles to protect my counter top because a distance of 20 cms is recommended for ventilation between the unit and walls or objects . The feet of the unit measure 2 cms H. The unit gets quite hot when running it at 75 C but all surfaces surrounding it (except my counter top) were cool when I ran it for 30 mins even though I only have 14cms ventilation space. I ran it at 50 C for 7 hours and all is well and cool. So I am ready to start and happy with my dehydrator. It is easy to operate , seems robust and runs quietly. The manufacturer is BUFFALO. Delivery was prompt (2 days), the unit was well packaged and came with an instruction manual in many languages. On contacting the seller, he sent me an email saying it has a 2 year warranty. Buffalo makes a mini and a bigger dehydrator, this one is the mini 6 rack one. The dimensions are 34 cms W x 45 cms D x 31 cms H. The watts are 550 -650. The racks measure 30 x 33 cms and the unit comes with a drip tray. I bought silicone mats separately.
Rating and Recommendation