1 Large chicken approx 2.4kg
2 tsp of sea salt
1 tsp black pepper
1 tsp mixed herbs
2 tbsp olive oil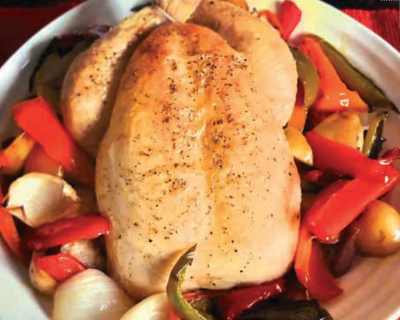 Method
1 Wash the chicken and pat dry with cloth then  place it directly onto the lower rack.
2 In a small bowl, mix olive oil, salt,pepper and herbs and using a pastrybrush,
brush this mixture all over the bird.
3 Replace the halogen lid, set the
timer to 60 minutes and temperature to 190ºC
Roast until golden brown, turning half way and  starting upside down. Test the chicken at the end of the cooking time by using a  skewer into the leg of the chicken to ensure that the juices run clear.
If they are slightly pink, cook for another 10 minutes.
4 Save the cooking juices from the chicken to make the gravy.
Notes: I usually use the extender ring especially if the chicken is large, it prevents ( to a degree ) splatter into the lamp unit and cooks more evenly, not a prone to burning the top, although you do have to experiment with a slightly longer cooking time