The Cooks Professional Digital Rotisserie Air Fryer is sourced by the well known distributor and catalogue outlet Clifford James. The combination of hinged lid and safe to touch machine body, makes the Cooks Pro product a winner. The double cell construction effectively insulates the outside, making  it much less of a hazard in the kitchen. Rather than a glass bowl as in the conventional type, the bowl is metal non stick, so is very easy to clean.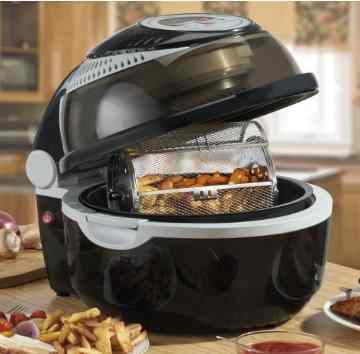 Rotisserie
The Cooks pro is equipped with a rotating spindle, so you can spit roast a  chicken and with the attachment of a wire basket (  seen above ) you can tumble the most marvellous chips, all with minimal oil, just a quick spray will produce perfect chips.
Accessories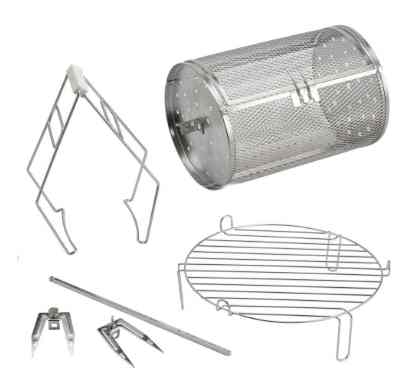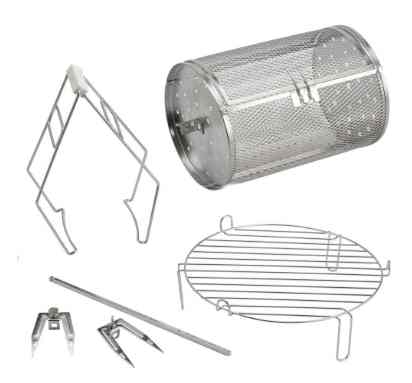 The Cooks pro is well equipped, with tongs, skewers, spindle, wire basket, combo wire  rack ( high and low)
Control
As with most modern gadgets, the LED display  will tell you instantly what is going on. You can set heat and time easily, I'm not a fan of single displays, that is one display that shows temperature and if you press the button it shows the time setting. It is confusing when you are  new  or in a rush to get something done.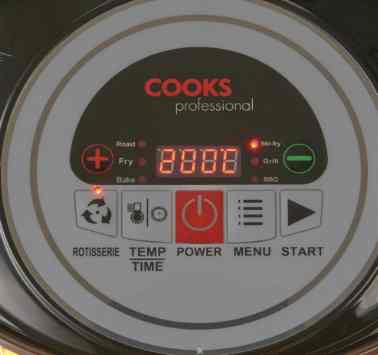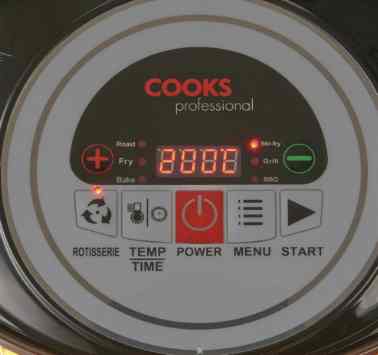 Having said that, the Cooks pro model is laid out neatly and you can just about manage without looking it up in the book, too often. It has useful presets  for Roast, Fry, Bake, Stir fry, Grill and BBQ.  If you lift the lid during cooking, it will pause the timer and if you need to keep the contents warm after  cooking, whilst other things are prepared , you can set it to run at 150 deg C.
Capacity and Specifications
The Capacity is slightly lower at 10 litres than most conventional halogen ovens, but very adequate for everyday family cooking, especially with the versatility of the rotisserie
Power: 1300 watts Uk standard 22ovolt appliance
Size 35 x 33 x 43.6 cm
Weight 6kg
What the Buyers thought of their Cooks Professional kit
I already had an air fryer, watching utube I saw the rotisserie air fryer and knew this is the one that I wanted in the first place, I can now do a whole meal in one go as I live alone I can eat healthier, I've not had it a week and already used it twice very happy with the food and my choice very good price cheaper than my first choice of air fryer.
I had just bought a new cooker, but I have only used it twice since I bought my AIR FRYER its great. Wonderful roasties, yorkshire pudding and dumplings.
I have now treated myself to a new hot air oven the Cooks Pro after checking out the rest the pro is the best I have now been using it for two weeks and it outperforms the old one by a mile
It is so easy to use and to clean just lift out the inner bowl and wipe clean with a damp cloth
the rotating cage is great for your roast veg I use oven chips and they are better than fried what more can I say it is great, try it you will never look back, as most things are cooked by the time your old oven has even warmed up and my electricity bill has dropped so it will pay for its self in a short time
Our Conclusion
The Cook Professional combines hot air frying with the rotisserie and rotating cage, well made with great safety features, good capacity and cooks very fast indeed. We rate the Cooks Pro 8/10
Buy Now OR Add to Amazon Cart