The Russell Hobbs Halogen Oven, 11 Litre capacity ( smaller than average) and with the extender ring this goes to 16 Litres.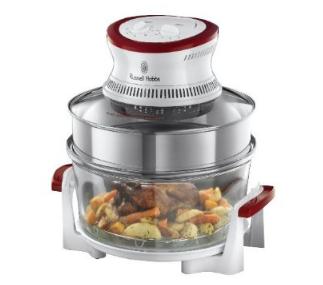 Its electrical rating was 1400 watts. The build quality looked faultless at first, however it was too easy when using the extender ring to mis seat the lid – the heater unit , so that it was unsafe and if not spotted, would possibly fall off or fall through the extender ring. Reviewers using the product over a period reported that the dial settings wore off quickly , even if only wiping with a cloth. The Temperature settings went from 125′ to 250'C which is the usual range of our reviews. The timer was 60 minutes
As long as you are aware of these few drawbacks, the unit will perform well . The  Russell Hobbs brand has been let down a little with this model, the manufacturer is Spectrum Brands.
We gave the Russell Hobbs Halogen a 3/5 rating overall