Combines good looks, a small 4 Qt size footprint, easy operation, clear digital display, and a great sub $90 competitive price
Maxx Specifications
Capacity 4Qt/3.8 Ltr ( 5Qt and 7Qt models available )
Power: 1200w 110 volt standard
Power Cord 3.5 feet
Temperature Range 180-400°F / 82-204°C
LED display Digital controls
Size 17 x 14 x 14 inches
Weight estimate 10 pounds
Model HF-509DT
The Maxx in Everyday Use
This is a very capable unit, and the feedback from customers shows very positive reactions. The Maxx is quiet in use compared to many other fryers and is very quick. Frozen fries typically take 25 mins in a conventional oven, just 15mins in this air fryer. There is help if needed on the PowerXL website, a welcome change from some imported brands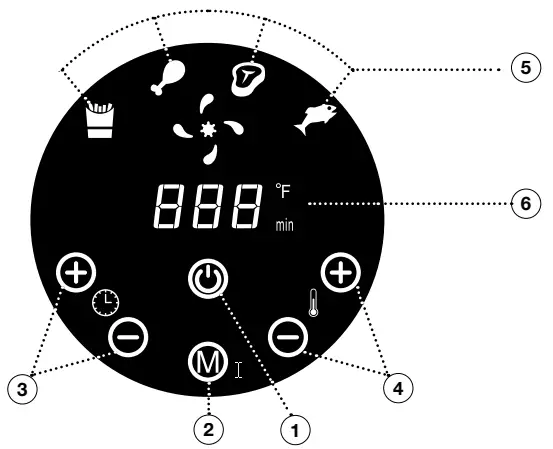 Select from 4 one touch preset functions:
french fries 400F 18min
fish 350F 10min
Chicken 360F 20min
Steak 400F 12min
Without choosing a preset it will default to 370°F for 15min, times and temp can be adjusted with the +/- buttons
1 cook
2 cycle thru cooking mode presets
3 Timer up/down
4 Temperature up/down
5 Presets illuminate when selected
6 Time/Temp Display
What the buyers Said…
It is simple to use and serves to make many dishes, it is only a matter of experimenting sometimes with time and temperature, but you do feel the difference when eating, and it is also easy to clean. They use it a lot in my house and they're very happy
Now I know it's been a while since I've had this product, but I had to put some use to it. Now don't get me wrong it came with some minor wear and tear to it, but nothing to fuss about. It just works perfectly for all kinds of meats even fries. Less grease and healthier. I may upgrade to the bigger size since I'm always using it. Amazing product!!!
First air fryer I bought and it works wonderfully. So easy to use. I have made chicken the other night and came out crisp and moist. Made French fries in 15 minutes. Cooks evenly and easy to clean up after you are done cooking. Trust me for the price this fryer rocks!!!
I think this is one of my favorite kitchen appliances now! I bought the 4 quart, because there's only 2 of us, and it is the perfect size. It's quiet and doesn't take up too much space on the counter. Clean up is easy. I have been using parchment paper inside the fryer basket, as suggested by the manufacturer. So far, I've done frozen chicken bites, and taquitos. They turned out crisp and tasty. I've also done eggplant parmesan slices,and crescent rolls stuffed with cream cheese, pecans, and cranberry jam. Everything was delicious! And it was easy to use! Follow the manufacturer's directions regarding time and temperature, and do not over fill the fry basket and it will work great for you, as well! I hope you enjoy this appliance as much as we do!
I used a little oil for better taste. Cooking in it is so easy. 4 qt is good enough for a small family.
Review Conclusion and Rating
The maxx is very capable very easy to use, and is well made. The 4Qt size is fine for 1 or 2 people and there is a larger 7Qt size available too. Excellent I gave this 7.5/10