** OUR TOP RATED REVIEW **
Now… a halogen powered design with a hinged lid – a great safety feature
Hinged Lid Design
I have been a strong supporter of the hinged lid variety of Halogen cooker since the idea appeared some years ago, the advantages are plain to see, it is so much easier and moreover SAFER to operate. That is both safer for you and from the standpoint of the hot element in the lid, which can be damaged if dropped.
On the older , original designs where the lid must be taken off the glass bowl,  opening the cooker, without scalding yourself with steam , watching out for the electric cable which is still connected to the lid  and whilst trying to put it down on a special wire stand, which unfortunately sometimes skids around the work top , is a worry especially if you're new to halogen ovens. So this improvement is most welcome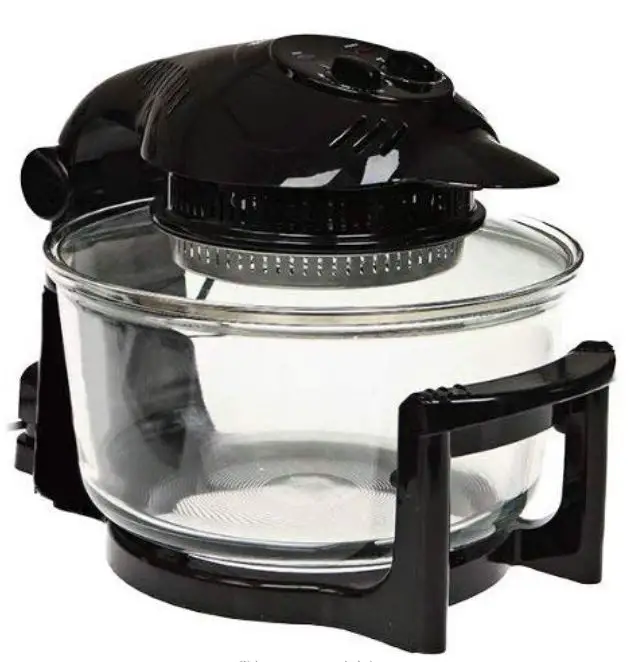 Great Price
The price difference though on most Halogens with a hinged lid, has been very large and off putting. With this new model though, Michael James scores well on Price, keeping it below the £45 mark, this is extremely competitive, other hinged lid types sell for around £30 more.  This really is great value, considering that the unit comes with a great collection of accessories
Tongs
Low food grill
High food grill
Air Fry basket
Oven Height Extender Ring
The previous oven from this company , was exceptionally well made and reliable. From the feedback already received about this new model, it would seem they have another winner! Note the extender ring fits neatly on the base when not in use.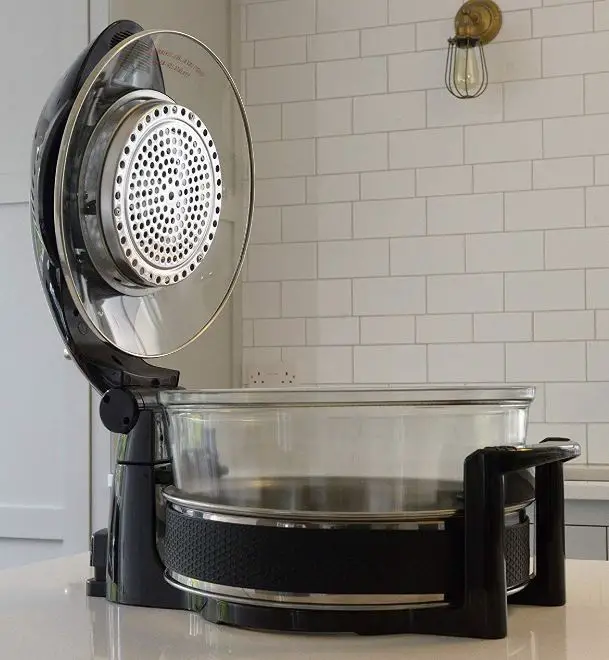 The Michael James Halogen Hinged Lid Model with extender ring in storage position and lid in upright position
Simple Settings
The Michael James cooker is very simple to use and operate. two dials set temperature and cooking time. Temperature is marked in Centigrade from 125 to 250 degrees in 10 degree clicks. Time – the dial sets cooking time up to one hours.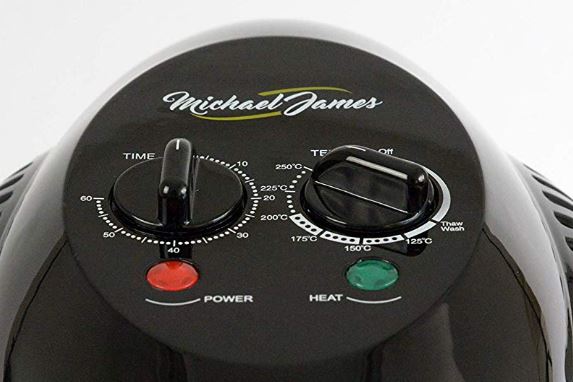 What the Buyers Say…
Don't be put off buying this oven because of the basic photograph shown. It comes with racks, basket, tongs etc.. Even a free gift of an oven glove was thrown in. This is my second halogen oven and I opted for a hinged lid model this time because my first oven had a broken bulb, due I believe to having to put the lid on and off a fiddly wee rack hundreds of times. The disadvantage of the hinged model is that a lot of space is required above the oven, when the lid is open. The oven itself requires no warming up time and does cook food a lot faster than a conventional oven. It pays for itself quickly in energy saved. Cleaning is fairly easy especially if you put a layer of foil at the bottom to catch any dripping juices. A self cleaning function helps too. Free delivery to Northern Ireland was included. Buy and enjoy.
This is my second halogen cooker and it is ideal for myself and I use it every day.
Best Features Best Price = Best Seller
Overall a great product and a remarkable price. Safety with the hinged lid, complete with accessories, neat design including storage position for extender ring. Simple settings anyone can understand. The temp setting is not continuous but in 10 deg steps but you soon get used to it and adjust the time accordingly. Instant heat, no waiting to reach cook temperature. Highly Recommended