The Andrew James Premium Halogen Oven 
Available in White, Red and Black there could not be a better introduction to Halogen cooking than the Premium model. Simple and robust.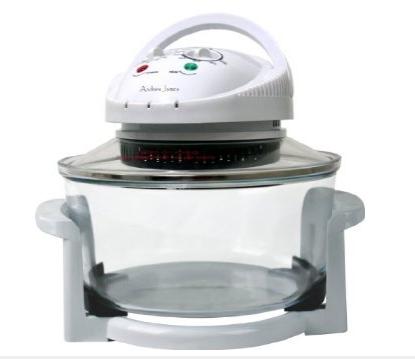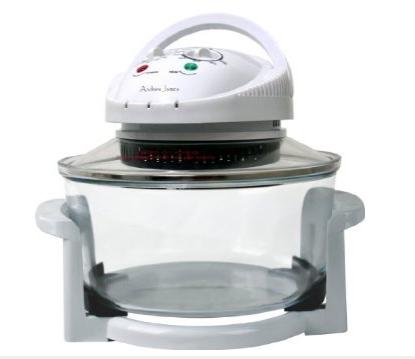 A real bargain from Amazon at the moment, comes with some great extras
FREE replacement halogen element unit

FREE 2-year warranty ( does not cover the glass bowl – so check it!! ) 

FREE Accessories:

1 x Set of Tongs

1 x Low food grill

1 x High food grill

1 x Baking Tray

1 x Steamer Tray

1 x Oven Height Extender Ring

1 x Lid holder 4 x skewer forks
So nothing extra to buy! You're complete and ready to cook any meal.
This unit has 12 litre capacity or 17 Litre if using the extender ring. When I ordered our Premium Oven, ( which arrived in record time and quicker than Amazon stated)
The unit was overall very impressive, compared to some of the other makes, quite well made. There were no omissions, breakages, or faults, the unit worked well and quietly the first time and every time. I noted that a couple of comments on the Amazon site said the handle broke after just a few sessions, but this one seems very sturdy.
The timer functioned reasonably accurately and the example recipes had more or less correct timings in them ( though not the most interesting or thorough of cookbooks ). When trying out new products take into account variations of ingredients.
The instruction book is probably the worst part and not worth even opening surmise to say it simply states the obvious… I think I can find the on/off button without help!
One of the best improvements in the design I think is the position of the lamp, in some other cookers it is too low and prone to get splashed and stained during cooking, this will shorten the life of the unit and cleaning isn't a practical idea, in this one, it is better placed and so remains clean.
I tried fish fingers, burgers, bacon, fish cakes, chicken breasts, baked potatoes, cheese on toast, and homemade chips done in the machine in a drizzle of olive oil. All turned out extremely well and got good marks from the tasters ( the family ).
I thoroughly recommend ordering through Amazon, their customer service and delivery are second to none. This Halogen Cooker is great value, the 2-year Guarantee, and free spare lamp were a big factor in our conclusion that this is one of the best Halogen Ovens currently available. The power consumption is stated at 1300Watt.
Update May 2021 : It's quite some time since I got the Andrew James Halogen Cooker (2013) and wrote this article I still use it every day and it is still working perfectly. I have noticed when reviewing the different makes and models, especially the newer models, that the fan noise from them can be excessive compared to this model. Although some units are lighter, I wouldn't change my favorite, well-made, durable, it is a superb workhorse. The Andrew James Premium Halogen is the granddaddy of all the copycats available today, believe it or not, it was introduced in 2009! 
The Time and Temperature controls on the Andrew James Premium model (black) simple and straightforward, adequate for most recipes. 
Easy to wipe down, but unsurprisingly after 9 years of working, the printed settings are a little faded now, but just visible.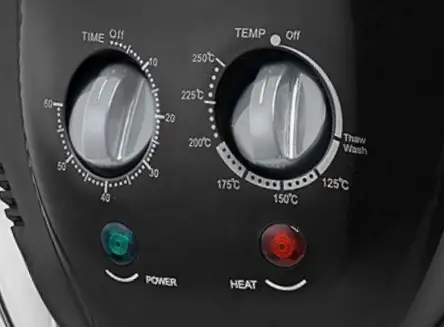 Consumption 1300w

Capacity 12 litre or 17 litre, with the extender ring fitted

Adjustment – Timer and Temp  are dial type ( analog ) 

Temp adjustable 125 to 250°C

Time adjustable 60 minutes

Handle to lift off the cooker top, also shuts off the power.

Weight is 13.6 pounds

Dimensions 400mm wide and 330mm high
what a pleasure. Being on my own I resent putting the oven on for one item, 30 mins heat up, 30p/hour running costs for however long it says on the packet. With this, there is no preheat, it costs around 18p/hour to run (on my tariff), turns on and off with the thermostat, and cooks quicker too. I now enjoy all sorts of foods I hadn't had for ages. It's already paid for itself, I would urge anyone to get one but especially if cooking for one. Southern fried chicken filets and French fries for me tonight. And it's low fat too!
2  Great way of cooking – I was looking for a small oven to complement a combination microwave oven in my small loft conversion kitchen. All the "conventional" mini ovens are so expensive and need lots of space around them if going in a cupboard etc which was what I was trying to avoid in the first place as I just didnt want to waste space for a full size oven when it's only a one bed flat so doesn't need huge amounts of oven space. I came across these halogen ovens whilst researching and decided they fit the bill as it can just be put away in a cupboard when not in use and takes up a lot less room when packed away. I chose this one as it has a lift off lid as I have limited space above the worktops due to a sloping ceiling so was worried that one with a hinged lid would be too "tall" when open. It also came with lots of accessories to allow most types of cooking and a spare bulb which was another winning point. I've baked focaccia in it, roasted chicken and vegetables, done fish in foil etc. Be aware that you will almost certainly need to turn most food over if you want it crisp on both sides (i.e. for roasting meat and baking bread – start with the food "the wrong way up" and then turn right way up to finish. I really recommend halogen ovens if you want a better alternative than a mini oven. This one is good value for money.
White Red and Black Available – Red currently out of stock
Rating and Recommendation
Extremely well done Andrew James
A great value product, Cooks beautifully. 
I bought my standard model back in 2013 and it has served my family well ever since
I prefer the hinged lid newer design, if it had been around back then, that is what I would have chosen.