Flavorwave Turbo Oven AX-767 MH
Weighing in at a very reasonable 17.8 pounds, overall dimensions are roughly the same as the other ovens reviewed – 15.1 x 15.1 x 11.2 inches , so check it will fit under any cabinets you have , before purchasing, having made this mistake myself, it is very annoying !  The Flavorwave is a very good price, built well but is shipped without the full range of extras  compared to other reviewed halogen products, in particular no extender ring. But in fairness, if you are cooking for one, or not looking to cook Elephant burgers, it won't be a problem, the vast majority of meals don't require one.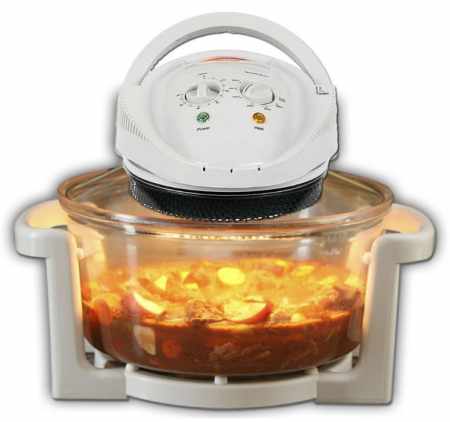 Customers purchasing this unit have mostly said it cooks very well indeed, some just can't have read the instructions or the cooking times , having used one now for over a year, I recognise some of the so called 'complaints' that have been reported . Cooking with a Halogen Infrared Oven is easier if you just look at the food cooking inside, in most cases its pretty obvious when its ready. So take the comments from feedback with a pinch of salt ! Its more of an art than a science, once you have got used to them, you'll love it. Of course there is always the tv hype…… "cooks in a third of the normal time" rubbish, it is a little quicker and better than most other cookers for lots of menus, and for some foods just indispensable !
Since the vast majority of reviews were favorable and actually recommended the oven to others, plus there were so few problems and no recurring problems, in the review I gave this oven 8/10 and can recommend it wholeheartedly.