Another in a successful product line.
Changes to the model include Carbon heating element  and the rotisserie device , a paddle , which is removeable,  to auto stir fry, perfect for making chips and roasted vegetables. The hot air method of cooking is very fast and for frying , takes just a single spoonful of oil to produce perfect results consistantly.  One complaint often aimed at the Halogen cookers was the fragility of the heating element. The success of the Nuwave Oven ( also reviewed on our site ) showed that the carbon heaters were indeed more robust and were also very quick to heat up.  Note though that the more recent halogen elements have a longer lifespan then the original types.
In my view, the one best advance for this type of oven has been the hinged lid. Although the halogen original design was sheer genius, with its heater in the lid and big glass bowl so easy to clean, it did require some effort and some care , to lift that lid with its red hot surface and place it down gently on its lid rack. With the hinged lid its so easy and SAFE !  Safe for you and safe from element damage.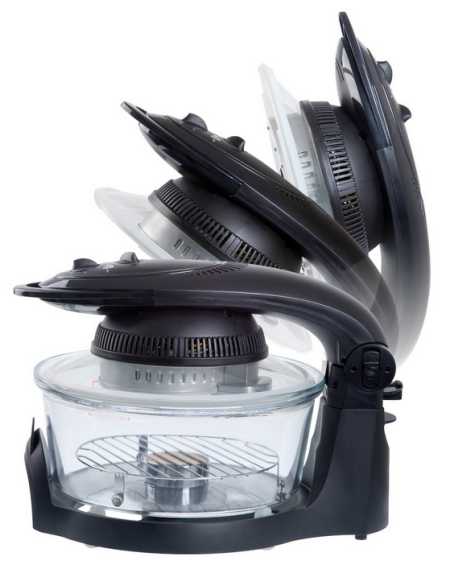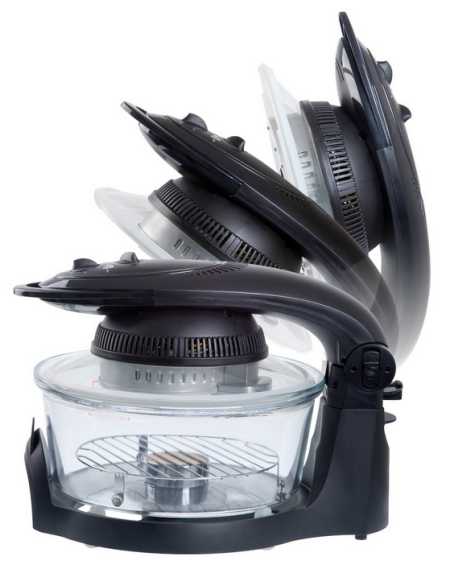 New Uprated Model
When cooking chicken for example, because the air is circulated using the very powerful fan in the Secura lid, the chicken will brown top and bottom, without turning the bird on its low rack. If you are doing chicken with vegetables, it is best to turn the chicken half way thru cooking.  I did notice a comment about it being noisier than previous models, well yes, its because the fan size and speed have been upped to improve the cooking, which it does impeccably browning top and bottom  really evenly and like you would expect with an upgraded version …. quicker.
My one grumble, and its just a personal thing, is that Secura have gone back to dials to control this model, they work perfectly well and I know many users will probably prefer the sheer simplicity of the temperature and timer dials, its just me….
The Secura comes with a great range of accessories ( listed below ) so it's an ideal first oven for anyone, everything you need is there.
Features at a Glance
 countertop oven with carbon based far-infrared heating element

Bakes, Frys, Roasts, steams, stir frys

Cooks straight from the freezer, no need for defrosting

Instant heat; no need to preheat

Fat just drips out for less greasy food

Temperature dial and  timer dial controls 302 to 482 deg Fahrenheit

12-Liter capacity glass bowl 

New more  powerful fan for super quick cooking and very even cooking

Stir fry with only 1-2 tablespoon of oil.

1550W power rating 1550 Watts

Accessories provided  turntable baking rack, high rack, food tumbler, tongs, oil measuring spoon, extender ring.

Download the Instruction book / User Manual here
Secura- 997MC-User-Manual
What the buyers said…
Everything came out excellent. This oven is indeed a multifunction appliance. It first is a convection oven similar to a Rotisserie oven, but with a turntable rack
Roasted chicken is second to none. The first chicken we cooked is perfect, golden crispy skin bottom and up, and juicy inside.
Pizza, this oven is a perfect appliance to make pizza. Pizza finished with a crispy crust and the excessive moisture on the pizza top were carried away by strong hot air circulation.