Hi, I hope this site will help you decide about these unusual products, without being conned into buying whatever the local store happens to have piled up in stock. You can read the manufacturers own glowing descriptions, then when buying it online, you find it just isn't what was promised. Its no good after you've bought a lemon, Googling it online at forums and finding hundreds of posts complaining about the same thing. So I decided to do some real research into Halogen Ovens and give you my findings… which is the best value Halogen Oven?
When I got my first Halogen Light powered Cooker I was very sceptical about the performance a machine that cost so little against my trusty Gas oven which had served so well over years and years of cooking.
Believe! these little units are extraordinary
Save money
Save time
Save time cleaning afterwards
Get the very best results every time with very little effort
How do they Work?
So simple, a powerful Halogen lamp heats the air,which is blown round the glass bowl with a fan and turned on and off by a temperature sensor and timer to maintain a very accurate temperature for a pre-set time.
Advantages
Your food can be seen cooking, without opening an oven door
Chicken browns nicely in a Halogen Oven, unlike a microwave. Perfect for cakes that need watching carefully so as not to overcook them.
They dont suffer from hot and cold spots like microwave ovens, the food is cooked very evenly and with a speed to match the microwave but with better results.
The design leads to healthy advantages , the fats tend to drain away.
If you cook for a large family, the Halogen is absolutely ideal, for sharing tasks out ,for example, while your large conventional oven is busy with the turkey, use the Halogen for those lovely crispy roast potatoes.
What foods give the best results in a Halogen Oven? Well it does a surprising variety of different foods very well, but the opinion of a lot of reviews show that Chicken, potatoes, bread, cake, chops, sausages, bacon, steak, oven chips, pies, cheese on toast are the most frequently cooked foods and the best results.
Here is the first tip, if you're new to Halogen cookers, don't try to cook food as it is shown on many manufacturers website pictures, with say a chicken sitting in the base of the glass bowl, it won't work, you need to give the hot air room to circulate under the food – so always use the rack.
If you are on your own, cooking for one can be expensive with conventional ovens and microwaves are fine but don't suit all foods, the Halogen cooker is impressively fast, easy to use and you will soon find that you get more adventurous with your menus, when you discover how easy some of the more 'difficult' meals are to prepare.
In the vast majority of cases reviewers comments indicated that they had noticed a reduction in the electricity bill ( where the Halogen was used to replace electric cookers of course! ) Whilst you have to take some as subjective, in my own tests and calculations cooking on a regular basis with these cookers, will definitely reduce the bill.
I grew up in the sixties and lived in a world where dad came home at the same time every day week in week out, year in…….. so despite much time consuming steaming, roasting or boiling , mum could have dinner on the table at the exact right time every day. However reheating was difficult and would ruin a meal very quickly. That world that has given way to one of convenience and quick cook foods, in such a busy world you can still maintain healthy living easily and not give in to fish fingers every night ( although the Halogen does Fish fingers perfectly ! ) or expensive and nutritionally suspect, ready meals
Top Tip!
Every time you remove the lid during use, wipe it with a damp cloth, saves a lot of work with hard baked on food.
Watch your cakes rise and take them out at the perfect moment !
Maximum Heat: make sure you choose one with a top temperature of 250 degrees, some only reach 200 degrees and that is a little short of the heat required to cook some recipes.
Cookery author and critic Robert Ehrlich recently ( Oct 2010 ) wrote this article for the Independent newspaper:
How I fell in love with halogen ovens
I've been writing about food and cookery for a million years, and have always been interested in new ways of cooking, because, well, because I'm a guy. And most guys like innovations, and gadgets. Pathetic, I know. But at least the gadgets I like have a practical use: I use them to cook for friends and family.
But there's a huge difference between gadgets and genuine innovations. A device that it makes it easier to peel garlic qualifies as a gadget – and a pretty useless one, in my view. A piece of kit that enables you to cook faster without loss of quality, and which saves energy into the bargain – that is not a gadget. It's a godsend. And the halogen oven falls into that category.
I had heard about halogen ovens in the USA, where they're pretty popular, and some months ago I decided I had to give them a try. The oven is a large Pyrex-type bowl on a stand, with a lid housing a halogen element and fan. It looked like such a simple, and though it took some getting used to, I pretty well mastered it in around 30 minutes.
Since then, I've been proselytising for halogen. I want to convince everyone that this simple, odd-looking device can revolutionise the way they cook their meals.
The first thing people ask me when I start boring them about halogen ovens is whether they are a microwave oven. The answer is no, though they share the ability to cook very speedily. Microwaves use very short radio waves to cause a rapid movement of certain molecules (mainly water and fat) inside food, and this movement makes the food heat up. The oven itself doesn't produce heat. Halogen ovens produce loads of heat. You can see that from the moment you first turn one on and see the ring of light in the lid. The light comes from a powerful circular filament inside a glass tube, which is filled with inert halogen gas. The lamp powers up to create an instant, intense heat. Some hobs use the same technology to great effect.
Halogen ovens cook far more efficiently than conventional ovens. They reach full heat faster than a conventional oven, largely because of their small size but also because the fan circulates the air inside, distributing heat throughout. And when you cook something close to the element, the oven acts as a turbo-charged grill. Indeed, many dishes cook through a combination of grilling and roasting.
Where can you use one? Anywhere. Any kitchen with a couple of square feet of empty counter space can accommodate a halogen oven. The oven should have a clear space around it, because you don't want to the hot element to be near anything that can burn or melt. You should also make sure there is nothing overhead which would make it hard to remove the lid. Halogen converts need to buy a stand on which you rest the hot lid and a special extending ring which allows you to cook larger items such as whole chickens and joints of meat. But these cost little, and are sometimes included with the oven itself.
Does halogen eliminate the need for a large, built-in oven? If you regularly cook for eight or more, you won't be able to shed the big oven completely. But consider: I've had my halogen oven for nearly a year and I've not used my full-sized oven since. And I've produced meals for six in it without any trouble.
And some people can use the halogen oven as an alternative to a conventional oven. For anyone cooking in a small studio flat, a boat or a caravan, it's a no-brainer. Single people, and couples living on their own, can produce roast dinners or quick midweek suppers in a fraction of the time needed by a larger oven. If you are refitting your kitchen, you might find that you can replace your traditional oven with the halogen option.
So, what to cook in it? It's better to ask what it isn't good for. It roasts beautifully: meat, poultry, vegetables. Large joints take a bit of practice because the heat is higher from the top, but these problems can quickly be overcome with experience. Breads and tarts cook well, and so do simple fruit-based desserts.
And the joy of shortened cooking times really is wonderful. I cook up to two ribs of beef, through a combination of grilling and roasting, in as little as 20 minutes. I think that's pretty impressive. You can also roast a chicken; make a pie; you can make great tomato sauce, or fish stew – and all in 15 or 20 minutes.
You'd think, because of the size of the oven, that it would be hard to get a whole roast dinner out of it. But I abide by the rule that no home cook should be obliged to serve more than one hot dish in any meal. The idea of conjuring everything up at once is a fantasy concocted by Masterchef. The thing to do, I think, is produce a starter at room temperature, such as a terrine cooked under halogen. That should free you up to use the halogen again for some roasted vegetables (served at room temperature) and a hot leg of lamb.
Those with young children might be worried about safety, but there's a clever mechanism in halogen ovens to eliminate the danger. The power snaps off when you lift the handle, which is the only way to take the lid off. And while it can get very smoky inside the oven, especially when the food is being cooked in a grilling position, it never flares into flames – probably because there isn't enough air.
With all that food at a high temperature in a small space, the oven gets dirty – it needs washing once a week, and some would do it every time they use it. Washing the bowl is easy in the sink. Cleaning the lid is more difficult, because the element shouldn't get wet. For best results, wipe with a soapy brush then wipe off. Abrasives are a no-no for the glass, but cleaning a halogen oven is a lot easier than cleaning a conventional oven.
Because of the top-down heat, some foods must be tossed or turned at least once. But you won't need to do it more than four or five times for a dish that cooks in 20 minutes. And if the top of the food is too near to the element, it may brown excessively before the inside is cooked. Using the extending ring or a lowish temperature eliminates that problem.
The best thing of all: halogen cooking is fun. Because the oven is transparent, you can watch the food changing minute by minute. It's an intimate, exciting experience. You'll occasionally find yourself crouched with your nose close to the glass. This is a somewhat addictive form of culinary voyeurism, though it also has the practical advantage of letting you see when something's going wrong. And if you get the hang of things as quickly as I did, that's not likely to be very often.
Robert Ehrlich
Repeated from : They roast a chicken in 30 minutes, clean themselves and cost just £40. We give halogen ovens a grilling
By Tessa Cunningham
Does cooking an entire two-course Sunday roast dinner in a glass bowl plugged into a wall socket sound too weird to be true? If so, think again. Welcome to the world of the halogen table-top oven.
Halogen ovens started life humbly enough being sold on shopping channels, but in the past few months they've won an army of converts on internet chat rooms.
And that's because halogen ovens don't just save space, they do everything in one pot that normally takes an entire oven to manage (sautèing, boiling, roasting, baking cakes) – and three times faster.
The table-top oven was developed using halogen heating elements, which convert electrical energy into intense heat. They also rely on infrared waves and an inbuilt high-performance fan, which helps circulate the intense halogen heat to cook the food as quickly as possible. The ovens themselves are much smaller than their conventional rivals – and about an eighth of the cost.
They consist of a clear glass bowl with a lid on top that contains the halogen bulbs and the high-powered fan. This means you can watch your food cooking, and adjust cooking times according to how the food looks.
But while they're compact, they can fit a suprising amount of food in – I could easily fit a medium chicken surrounded by vegetables in the bowl.
Some of the ovens also come with shelves so you can roast a larger chicken on the bottom while your vegetables or potatoes could go on the layer above – and because the fan circulates hot air evenly around the oven, there's no need to swap the chicken and vegetables around, or turn your food during cooking as in a conventional oven.
But is this latest kitchen gadget just a gimmick, or will halogen ovens really push traditional cookers onto the scrapheap?
To read all the article go the Mail Online
What to get for a Christmas present for the nearest and dearest? Be original this year, the Halogen Oven is an ideal gift and once the lucky recipient realises just how convenient, efficient and quick it is for everyday cooking, it won't be one of those gifts that end up in the loft, it will be used every single day.
If you glance through the pages of my blog you will find reviews for all the most popular ovens sold today, I have been using the Andrew James Halogen Cooker myself for over a year now, that is the winner of the best Halogen Cooker review and deservedly so. Is it the cheapest halogen oven, well not perhaps at the point of purchase, but over the year this reliable unit has proved to be the best value halogen cooker. After all, who wants to troup back to Currys or Argos on New Years day with a broken appliance?
I haven't yet put the cooker on a metered test, but when compared to the microwave, the cooking time is shorter so it is certain to save me money over the long run and the best feature… the results are much better. Definitely the best value halogen cooker.
Being a workoholic, living alone, I find myself cooking ready meals all too often, coming in late from work exhausted, isn't likely to suddenly lead to me spending hours in the kitchen. I can say 100% that the results in the halogen from a very simple meal, for example a roasted half checken with a french stick, far far exceed any ready meal done in the microwave. One problem of the microwave, the occasional 'still cold in the middle' yet boiling nicely outside, with things like Lasangne , has completely vanished, all food is thoroughly cooked with the Halogen cooker
Our Review pages give the findings of our tests, in which we examined the products for quality and features rating on…
Value
Performance
Included extras
Potential Problems
We gave the full specifications when available ( there were some differences noticed between the sellers spec and the manufacturers data)
Capacity with and without extender ring
Electrical Wattage
What accessories are provided
Price – you can check the current price using the ads in the right hand sidebar on each page
Special features ( Hinged lid / Digital display )
and then the feedback summary from previous buyers. If there were many reviews noting the same or similar problems we have brought those out in each review.
Go To Our US  REVIEW page
Go To Our UK REVIEW page
You just have to look at all the advantages to know, it's a really good idea.
No more bending down to look in the oven
Students best Choice
Halogen ovens are great for re heating or cooking fresh produce quickly and very economically. If you're away in Student accomodation and the cooking facilities are limited, this will give you all you need and not burden you with enormous electricity bills.
Convenience when Cooking
Halogen Cookers all have big glass bowls, ideal if the meal is to be cooked right up to the perfect point. With the clear visibility it offers and the fact that it is on the counter top, makes it easy to see when the cakes have risen and food is done to the turn.
Fast Food
These marvellous devices will rival a microwave for speed and you don't have to buy food in special microwaveable dishes ( or waste money with chips in boxes ) Just use ordinary cooker ware, pyrex glass bowls, round cake tins or the racks provided with the unit.
If you have never seen one in action, here goes…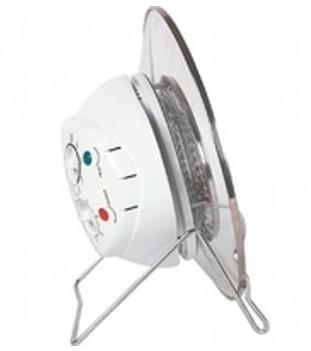 The lid has a stand ( except the cookers with integral hinged lids ) make sure you have it placed on the work surface ready, when the cooker is hot it is essential to have the stand ready. Also be careful with the hot lid, this is when damage to the lamp can occur, always be gentle placing the lid down on the stand or back on the cooker.
Load the cooker 
These ovens are supplied with wire racks. The food is cooked by circulating hot air, so you must ensure that the air can reach the underside. In practice some foods may need to be turned during cooking, to ensure good results. Use a low wire rack for cooking, baking, re heating and roasting, use the higher rack for grilling.
Set up the temperature and the time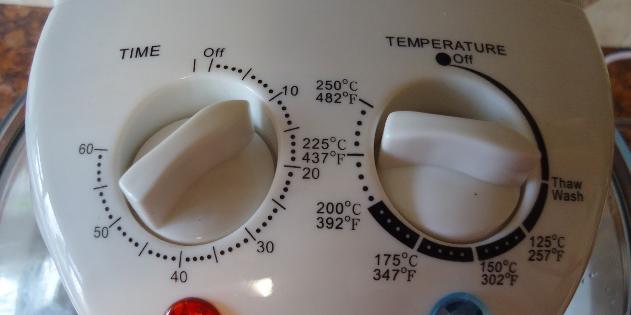 It really couldn't be simpler. Treat cookery books as guides only, you will soon be able to adjust normal recipes for the Halogen cooker. There are plenty of tips on this site for cooking different dishes.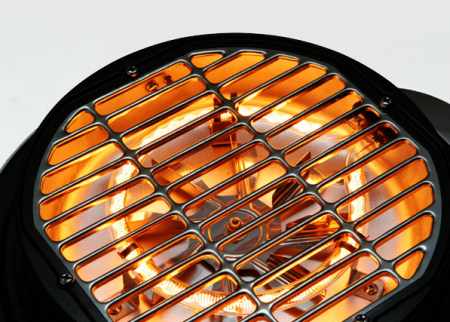 Here is the lamp and fan at work circulating the hot air around the bowl.
Notice the Thaw/Wash setting, the heat and fan are used to create waves that wash the dish clean after use…. now that takes some beating!